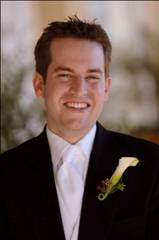 In Memory of Our Oldest Son
David Alexander Allweiss
December 15, 1982 – December 13, 2005
David, In His Own Words
David was a writer, so I have brought together on this page some of his writings that reflect his personality, and a brief audio recording.
David was interested in publishing a novel one day. His work, Steel Opus, represents his interests in science fiction, the military, politics, and how the world might really be put together. Please enjoy "Steel Opus".
In 11th grade one of his teachers assigned the students to write an "ABC" book about themselves. This work shows David's thinking about himself when he was 17 years old. Many of the elements of the David we knew at 22 are there, some would require a few years of college to round out.     Enjoy "My ABC Book by David Allweiss".
David's favorite class at Pepperdine was Dr. Seshan's Business class. David had to write an essay about how he felt about the class, and what impact it would have on his future. Dr. Seshan was kind enough to give me a copy, which I reproduced here for your enjoyment, "David's final Business Class memo".
So you won't forget his voice, I copied his last cell phone greeting, you can listen to this short file, it is the last recording of his voice that I know of.