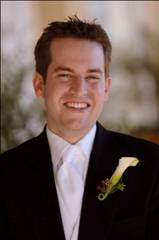 In Memory of Our Oldest Son
David Alexander Allweiss
December 15, 1982 – December 13, 2005
Wedding Video
July 29, 2005
On December 27th, 2005 a memorial service was held for David Alexander Allweiss at the Pacific View Memorial Park Chapel in Newport Beach, California. We had several distinguished speakers, and family members deliver eulogies for David. Below are four clips of 10 minutes or less from the memorial. I hope you enjoy the inspirational messages that were delivered that day.
Jack Allweiss
Eulogy by John Schuetz, David's scoutmaster and employer.
Eulogy by Jon Allweiss, David's brother and Matt Miller, David's best man and best friend.
Eulogy by L. Keith Whitney, Professor of Business Law and Finance, Chairman of the Business School, Pepperdine University with introduction by V. Sehan Ph.D.
Eulogy by V. Seshan, Ph.D., Professor of Management, Pepperdine University.